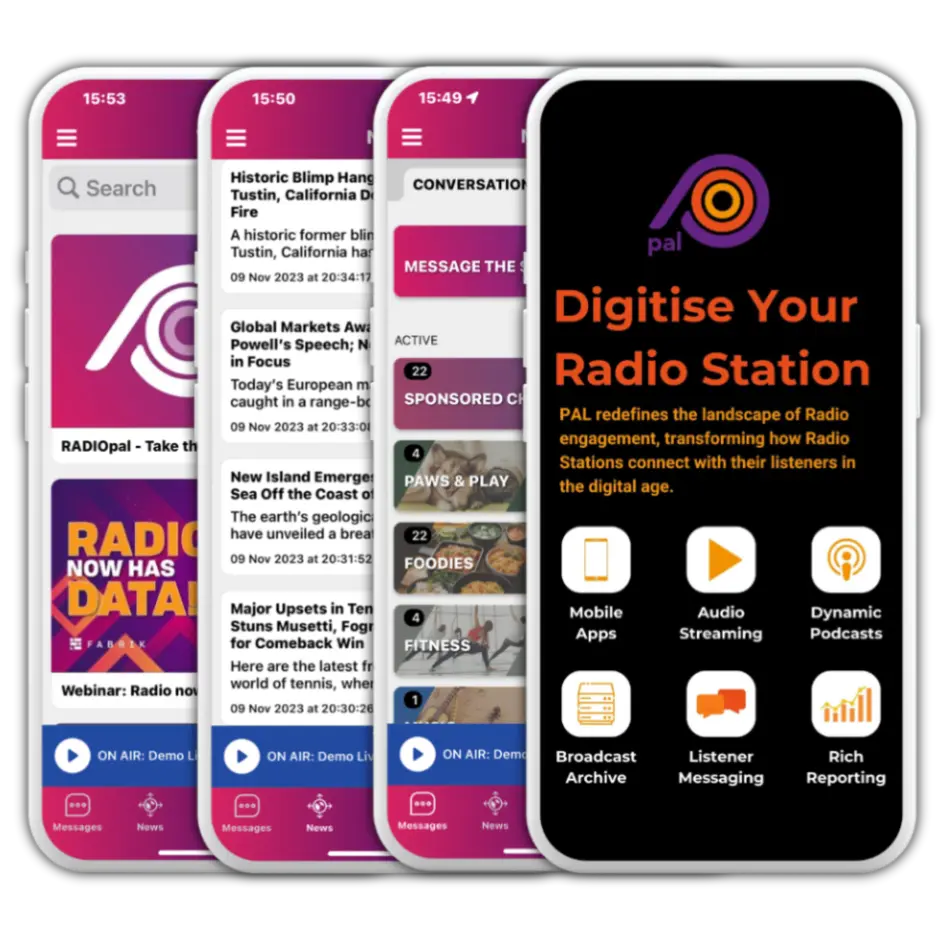 DEMO APP SHOWCASE
Re-imagine Your Radio Station's Future
Our demo app offers a tantalizing preview of what's possible when you blend your station's unique style with our innovative technology.
Discover our mobile app features that offer deep insights into listener preferences and open up new avenues for growth and monetization.
Step beyond the traditional and enter a world of enhanced listener engagement.
How It Works
Step-by-Step Guide
Quick Access
Scan & Explore
Simply scan the QR code to instantly download and dive into our demo radio app. Experience the future of radio broadcasting in just a few taps.
Uncover the powerful feature options that could define your radio station's app. It's all just a scan away.
Begin your journey towards a transformative digital experience. Scan, download, and start envisioning the potential of your own radio station app.
Easy Download
Tap into Innovation
With just a tap, step into the world of advanced radio broadcasting. Download our demo app and see the future of digital radio.
Discover the features that can transform your station, anytime and anywhere. Our mobile-friendly demo awaits your exploration.
Tap the link, download the app, and embark on a journey to redefine your radio station's presence in the digital landscape.
Feature Spotlight
Discover App Highlights
Explore a selection of standout features in our demo app.
Most Popular
Frequently Asked Questions
How close is the demo to the final product?
The demo app offers a realistic preview of the functionality and design you can expect from the final product depending on the package you sign up for. While the demo showcases a range of features and customisation options, the final product will be tailored specifically to your station's unique branding, ensuring a more personalised and fine-tuned experience
What customisation options are available?
Our platform offers extensive customisation options to ensure your app aligns with your station's brand identity. This includes custom logos, colour schemes, layout choices for the screens, feature selections based on plans, and more. You can personalise everything from the app's screens to the types of content you want to include.
How can we start creating our own app?
Can I integrate my existing content?
Absolutely! Our app is designed to seamlessly integrate with your existing content. We provide tools to help you import your current media, ensuring a smooth transition and a consistent listener experience.
What kind of support and training do you provide?
We offer comprehensive support and training to ensure you are comfortable and proficient in using the app. This includes detailed user guides, training sessions, and responsive customer support for any queries or assistance you may need. Our goal is to ensure you have all the resources to effectively manage and utilise your app.
How does the app handle listener engagement and feedback?
Our app is equipped with interactive features like live chat and surveys that allow you to engage with your listeners in real time. You can gather feedback, conduct surveys, and interact with your audience directly through the app, helping you build a stronger community around your station.